OTT (Over-the-top) has had a lot of different faces in the last couple years. Depending on how you worked with OTT in the past, you may have referred to OTT as mobile video. Today, the term OTT is more widely acknowledged as the device being used to stream television, rather than the relationship to an operator. OTT is delivering content from a programmer to an end user, leaving out the traditional TV buy infrastructure.
That's an important distinction to make. OTT Ads are different than other online video advertising. OTT Ads are ads shown on a TV screen through a smart (connected) TV, or streaming device. With OTT Ads, you can make the important distinction that there's more than one person watching the program, where online mobile video is capturing an audience of one. Simply put, OTT is used to consume content rather than browse content on the web.

This is such a monumental time for OTT Ads because cable subscribers are dropping across the board.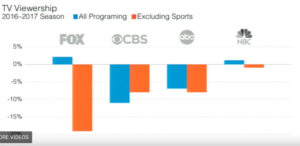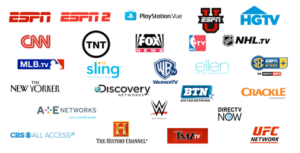 The shear mass of places to advertise through OTT is growing exponentially. Traditional TV advertising has fierce competition with OTT Advertising as users begin shifting to streaming television and cutting the cord.
Top OTT Viewership: Netflix & Hulu versus Roku.
Netflix & Hulu have large viewership percentages, but Roku has the best-selling device for OTT streaming. However, Roku only control about 1/3rd of the market. That leaves a lot of room for other companies to sell OTT ads across other leading CTV devices like Chromecast, Amazon Fire TV & AppleTV.

vs.