17 min read
Free Ad-Supported TV (FAST): Ultimate Guide for Advertisers
Everything old is new again, including scheduled television with commercial breaks. You heard that right: Today's viewers are watching linear, ad-supported programming just like we did at the dawn of TV.
Only one thing is different this time around — it's being delivered over the top (OTT) rather than via cable or satellite. Streaming apps like Pluto TV are broadcasting this content to users free of charge. And the industry is calling it free ad-supported streaming TV, a.k.a. FAST.
So what separates FAST from other types of connected TV (CTV) content? And how can marketers take advantage of this new medium? We break it all down in this guide to FAST advertising.
Table of Contents
Best Practices for FAST Advertising
What Is fast Streaming?
Also called free ad-supported TV, FAST is a category of streaming services that deliver a predetermined lineup of video content without requiring a paid subscription.
This broadcast model generates revenue entirely from commercials and looks a lot like the programming we used to consume in the pre-Netflix era. Popular FAST services include Pluto TV, Tubi, and the Roku Channel — with more popping up every day.
In many ways, FAST is the streaming world's answer to our nostalgia for cable TV. After all, sometimes even cord-cutters want to power up the TV and let a scheduled broadcast play without giving it any thought.
This type of lean-back viewing isn't just cost-effective — it's a welcome break from on-demand services. The average American now spends 45 hours a year figuring out what they'll watch next when using platforms like Hulu and Amazon Prime.
With FAST, the only choice you have to make is which channel to land on.
The promise of FAST is simple: you get free video content with regular commercial breaks. There's no way around the ads, and the ability to fast-forward or rewind is limited. But you still have the ability to channel surf.
Plus — in case we haven't beat the dead horse hard enough — it's all free. Many services don't even require registration. That means no username, password, or credit card is needed.
What isn't fast
FAST streaming is such a new concept that it's worth spelling out how it's different from the broadcast models we know well.
While many are quick to conflate it with advertising-based video on demand (AVOD), there are distinctions between the two. The same is true for how it compares to linear TV. Here's a closer look at these related concepts.
FAST Vs. Linear TV
If you've ever watched Saturday morning cartoons, then you're familiar with linear TV.
Linear TV refers to the traditional method of television broadcasting, where content is delivered to viewers in a scheduled, predetermined sequence. With linear TV, programs are broadcast over a specific set of channels at predetermined times, and viewers tune in to watch them as they air.
With the rise of digital streaming services and on-demand viewing options, many assume that this model will become obsolete. That's because true linear TV is delivered via cable and satellite, both of which are losing market share to streaming services.
FAST, on the other hand, is delivered using streaming technology. Thus, it's fair to call FAST the next generation of linear TV — adapted for today's world of OTT distribution to CTV devices.
Another major difference between FAST and linear TV is how the commercials are served. Traditional TV advertising is more costly and less targeted than FAST advertising because the audience pool is broader. It's also challenging to measure the results of traditional TV campaigns, which limits the ability to optimize marketing efforts based on data.
TL;DR: Linear TV is distributed over the air using traditional broadcast technologies like cable; FAST is distributed over the top using online streaming.
FAST vs. AVOD
AVOD is a giant category comprising everything from social media sites like YouTube to streaming services like Hulu. Any app that lets you play videos on demand in exchange for watching advertisements falls within the AVOD umbrella.
And even Hulu is a questionable example of AVOD. Rather, the platform would be more accurately labeled as hybrid video on demand (HVOD) because it generates revenue from both advertisements and monthly subscription fees.
With AVOD, content is served to viewers on a one-to-one basis after being initiated by the viewer. The "on demand" part of AVOD is what differentiates it from FAST.
That's because with FAST streaming TV, users get access to 24/7 broadcasts. These linear channels are delivered on a one-to-many basis — meaning the primary content is delivered to mass audiences at the same time.
Both AVOD and FAST provide the ability to serve personalized ad experiences based on precise demographics. Granular data about the viewers' online behaviors, real-time location, and more enable advertisers to market to their exact audience and track their behaviors after the fact.
TL;DR: FAST and AVOD are both ad-supported streaming models, but AVOD describes click-to-play video content, whereas FAST channels are constrained by a broadcasting schedule.
How Does Free Ad-Supported TV Work?
From a user's perspective, FAST is straightforward. Simply turn on your smart TV, navigate to one of the FAST apps detailed below, and a TV guide will appear with a lineup of channels.
If you purchased your TV from a FAST provider like Roku, it's even simpler. These "in the glass" or "app-less" services are increasingly integrated into the TV's interface from the second you unbox it.
Most services don't require registration, so you're free to tune in without much friction. The channels run 24/7 whether you're watching or not — playing everything from reruns, old movies, platform-specific content, and local news.
How does fast advertising work?
Things are a bit more technical behind the scenes. Because streaming opens up opportunities to deliver more targeted ads, FAST advertising leverages programmatic media placement.
These commercials are purchased via programmatic auctions the same way most CTV advertising campaigns are executed today. This involves the participation of the supply-side platforms (SSPs) that sell ad inventory on behalf of publishers, the demand-side platforms (DSPs) that enable advertisers to bid on and purchase ad impressions across various ad exchanges, and the data providers that ensure targeting is precise.
A lot goes on to get the right commercial to the right viewer when advertising on FAST. For this reason, many agencies and brands rely on a managed services partner like Strategus to simplify the complexities of buying CTV ads programmatically.
The Trend Toward Free Streaming TV Channels
The biggest driver of FAST's growth is the fact that it's free.
Consumers have cut back on subscriptions in recent years and the cause of this is no mystery. With the sheer volume of platforms now requiring monthly subscriptions, our dollars are stretched thin.
As a result, streaming platforms have returned to advertising as a way to monetize their content. Netflix and Disney Plus introduced ad-supported tiers late last year. And Netflix quickly discovered that its commercial-based offering is more lucrative than the OG ad-free model.
But why not take it further and eliminate monthly subscription fees altogether? FAST providers have done just that and disrupted the industry.
Deloitte summarizes the trend:
"[Deloitte Global] predicts that, by the end of 2023, all major subscription video-on-demand (SVOD) services in developed markets will have launched an ad-funded tier to complement ad-free options. By the end of 2024, half of these providers will also have launched a free ad-supported streaming TV (FAST) service. And, by 2030, it is expected that most online video service subscriptions will be partially or wholly ad-funded, catching up with emerging markets where ad-funded video on demand has always been the norm."
Every major media company (Paramount, Fox, Comcast, NBC) and streaming device manufacturer (Amazon, Roku, Samsung, LG) has already made the foray into FAST. And if Deloitte's predictions hold true, we can expect Netflix, Max, and the like to follow.
Media conglomerates are also eyeing the opportunity. Warner Bros Discovery CEO David Zaslav described FAST streaming as "a unique opportunity to increase our addressable market." To this end, they've partnered with both Roku and Tubi to bring WB-branded channels to their FAST platforms.
Factors Driving FAst Adoption
Beyond costs, many viewers are tuning into FAST due to its format. Here's a look at the myriad factors shaping the future of streaming TV.
Analysis paralysis: At the end of a long day, turning on a linear channel is often more appealing than sorting through countless titles.


Cost efficiencies: Ad-supported streaming is on the rise across the board — giving users a way to minimize entertainment expenses.


Ease of use: From eliminating the need for a password to delivering a simpler UI, the most popular FAST apps remove the clutter that prevents users from hitting play.


Subscription fatigue: With so many platforms vying for our attention, viewers are sick of having to pay for ten different services. FAST services do away with the costs and required sign-in — meaning viewers don't even need to enter a password.


Personalization: Most FAST channels are curated, with entire teams dedicated to creating content lineups that keep viewers engaged.


Streaming Devices Give Way to Fast Services
Another factor driving FAST adoption is the role that device manufacturers play in creating these services and cross-selling them to consumers. For this reason, FAST services and FAST devices are starting to blur.
Consider Roku. The company launched its set-top box in 2008, enabling anyone to transform their TV set into a connected TV (CTV) device. In 2017, they launched the Roku Channel, thus expanding their hardware focus to include content services. And most recently, Roku started selling its own smart TVs.
Anyone who purchases a Roku TV or set-top box sees the Roku Channel on their home screen as soon as they push the power button. In this way, Roku's devices act as a marketing channel for the content services they provide.
Other hardware manufacturers taking this approach include:
Samsung and their Samsung TV Plus service.
LG and their LG Channels service.


Amazon and Amazon Freevee (previously IMDb TV) service.
Vizio and their WatchFree+ service.
This tactic is a no-brainer. It allows device manufacturers to monetize the exclusive access they have to users and then use the data they collect to sell targeted ads. Any device manufacturers that haven't yet gotten in on the FAST streaming game are likely eyeing it, which means the market will continue to expand.
Fast Advertising Growth and What it means for marketers
According to research firm TVREV projects, ad spending on FASTs will surpass cable, broadcast, and SVOD/AVOD platforms like Hulu by 2025. That means the format will have transformed from a novel concept to the biggest source of TV advertising revenue in the span of a decade.
A few reasons for the growth of FAST advertising include:
Targeting is unmatched, with FAST offering both niche channels that appeal to different demographics, as well as the vast access to the data that CTV ads already provide. It would be an obvious win to run commercials for your casino to local gambling enthusiasts watching World Poker Tour on Tubi — and that's all possible with FAST.


The returned preference for leaned-back viewing means nobody's pressing 'skip ad' after 5 seconds as they are on YouTube. Rather, FAST ads are playing to completion on the most important household device: the living room TV. One 2022 report found that 97.78% of FAST viewers watch the ads to completion.


Inventory is growing

— which means advertisers have more to bet on. With the number of channels and viewership increasing each day, this trend will continue.




Best Practices for FAst Advertising
The future of TV is starting to look a lot like broadcasting of yore: free, with commercials, and perfectly suited for channel-surfers like my father-in-law. Even better, we're now able to improve upon the viewer experience with personalized advertising.
Traditional TV has always been rife with irrelevant commercials. Luckily, FAST channels eliminate that drawback.
Localization, viewer behavior data, and retargeting tactics all enable broadcasters to deliver much more enjoyable TV experiences when running campaigns on FAST. This means that viewers get access to premium content at no cost, and during the commercial break they learn about products and services that actually pique their interest.
With the ability to serve more personalized, engaging ads based on viewer data, marketers and streaming services have an opportunity to drive customer loyalty and increase the return of their ad spend (ROAS).
So what are the best practices when advertising on FAST channels? It's all about delivering a relevant and compelling viewer experience — with the metrics to back your efforts up.

Marketers exploring FAST advertising should search for a solution that delivers on the following requirements:
FAST advertising opens up so much potential, but getting it right can be daunting. Running effective campaigns that prioritize all of these tactics is a full-time job in its own right.
Just take it from TVREV Cofounder Alan Wolk — the very guy who coined the term FAST:
"Advertising on FASTs is almost all addressable, so if you have good first-party data on your customers and you're looking to move product, then the FASTs are an excellent bet. Figuring out OTT advertising isn't easy… but right now it's a great and relatively low-cost way to reach your target audience with creative units that are a lot more impactful than banner ads."
This is where CTV advertising managed services deliver a ton of value. Countless agencies and brands rely on Strategus to run sophisticated campaigns that drive brand growth.
Our FAST advertising solutions ensure advanced targeting, full-funnel delivery, and granular attribution and measurement — all hand delivered by a dedicated team of CTV experts.

Top fast channels & Services to Advertise on
Today's free ad-supported streaming services fall into three categories: independent services like Crackle, those owned by device manufacturers like Roku, and FAST tiers offered by major media corporations like Comcast.
Here's a side-by-side comparison of the most popular services.
Pluto TV (Paramount)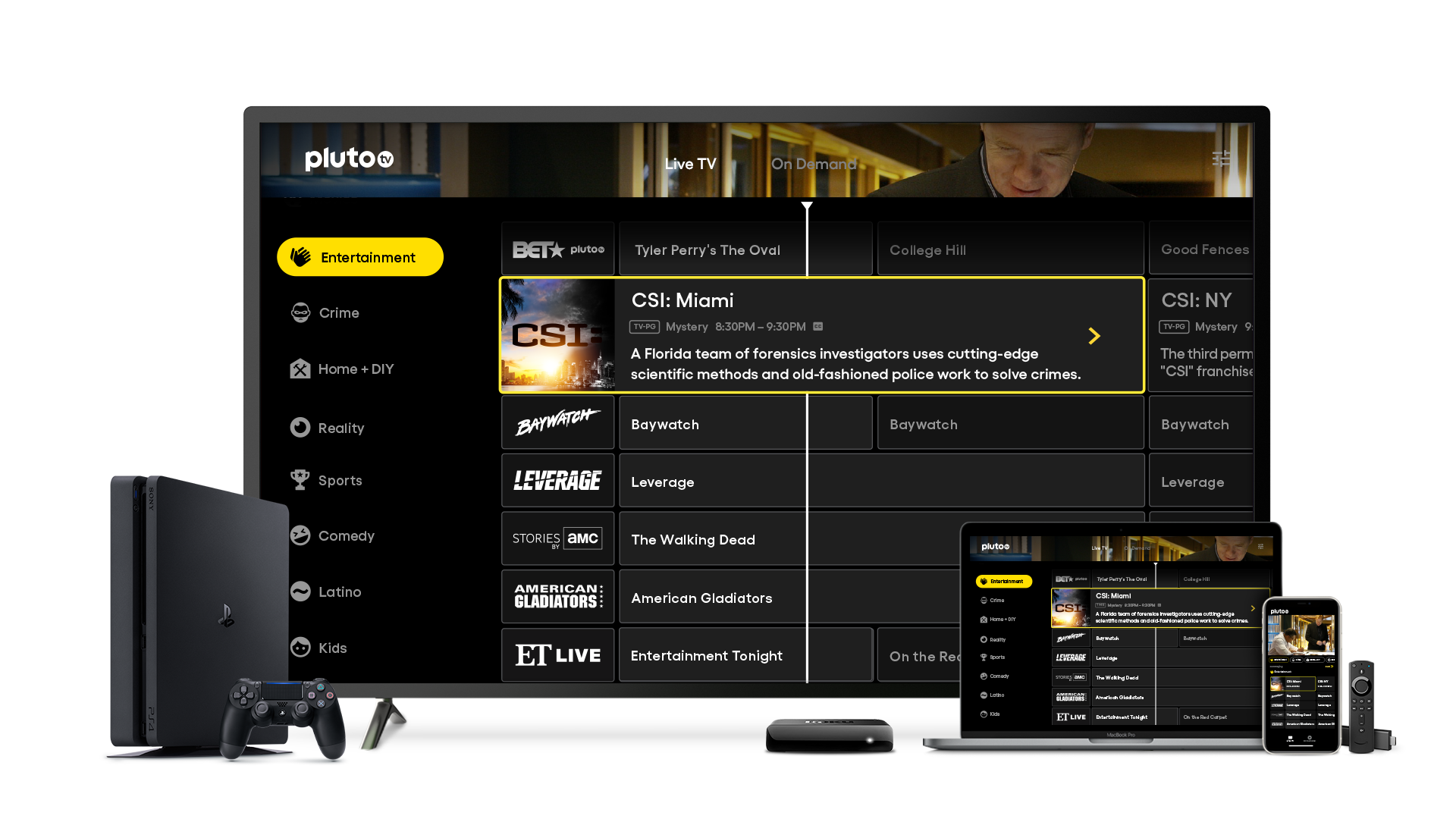 As one of the earliest movers in the FAST space, Pluto TV launched in 2014 as an April Fool's Joke. The joke, it turns out, was a lucrative one — generating more than $1 billion in ad revenue last year.
Paramount acquired Pluto TV in 2019, and the platform now offers 250+ channels for users to flip between.
Plenty of Paramount content can be found on the platform, as well as Spanish-language programming, local TV, and an array of niche channels like gaming and anime. Pluto TV is also available on a vast range of devices, including Apple, Google, LG, and Samsung TVs; Amazon Fire and Roku devices; and the web.
Tubi (Fox)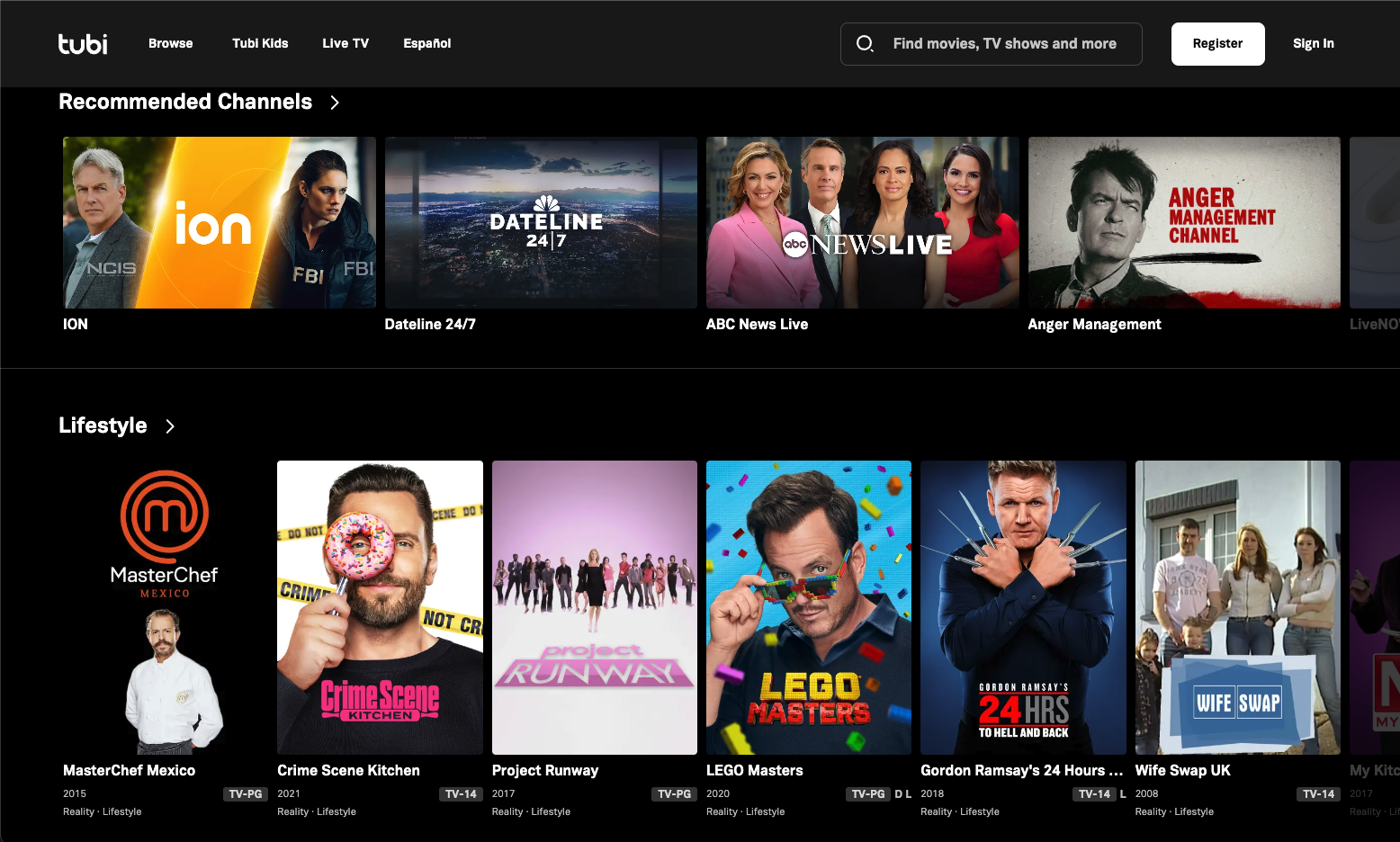 According to Nielsen, Tubi has surpassed Pluto TV in viewership, now accounting for 1% of all streaming. The Fox-owned service has a large collection of free content sourced from Warner Bros Discovery, Lionsgate, MGM, and more. While Tubi's channel offering lags slightly behind Pluto TV, many users prefer the UI.
The Roku Channel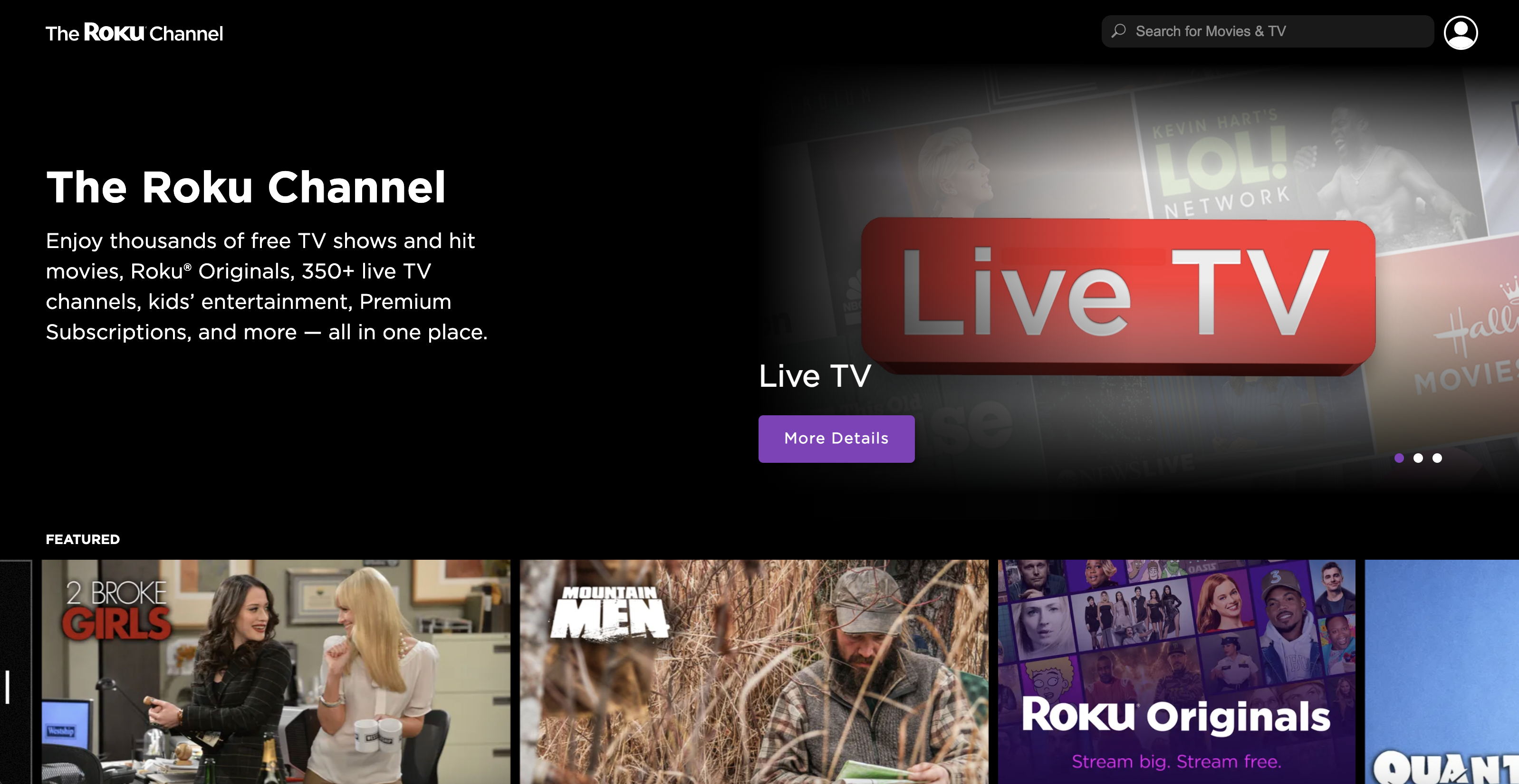 The Roku Channel has extensive content across its 350+ channels and premium original content like their upcoming "Weird" Al Yankovic documentary (starring Daniel Radcliffe).
Many Roku TV and device users tune in because the app is front and center when they power up their devices. But access to the Roku Channel is fairly limited for non-Roku users. It's only available on the living room TV if you have a Roku device, Amazon Fire device, or Samsung smart TV.
Xumo Play (Comcast)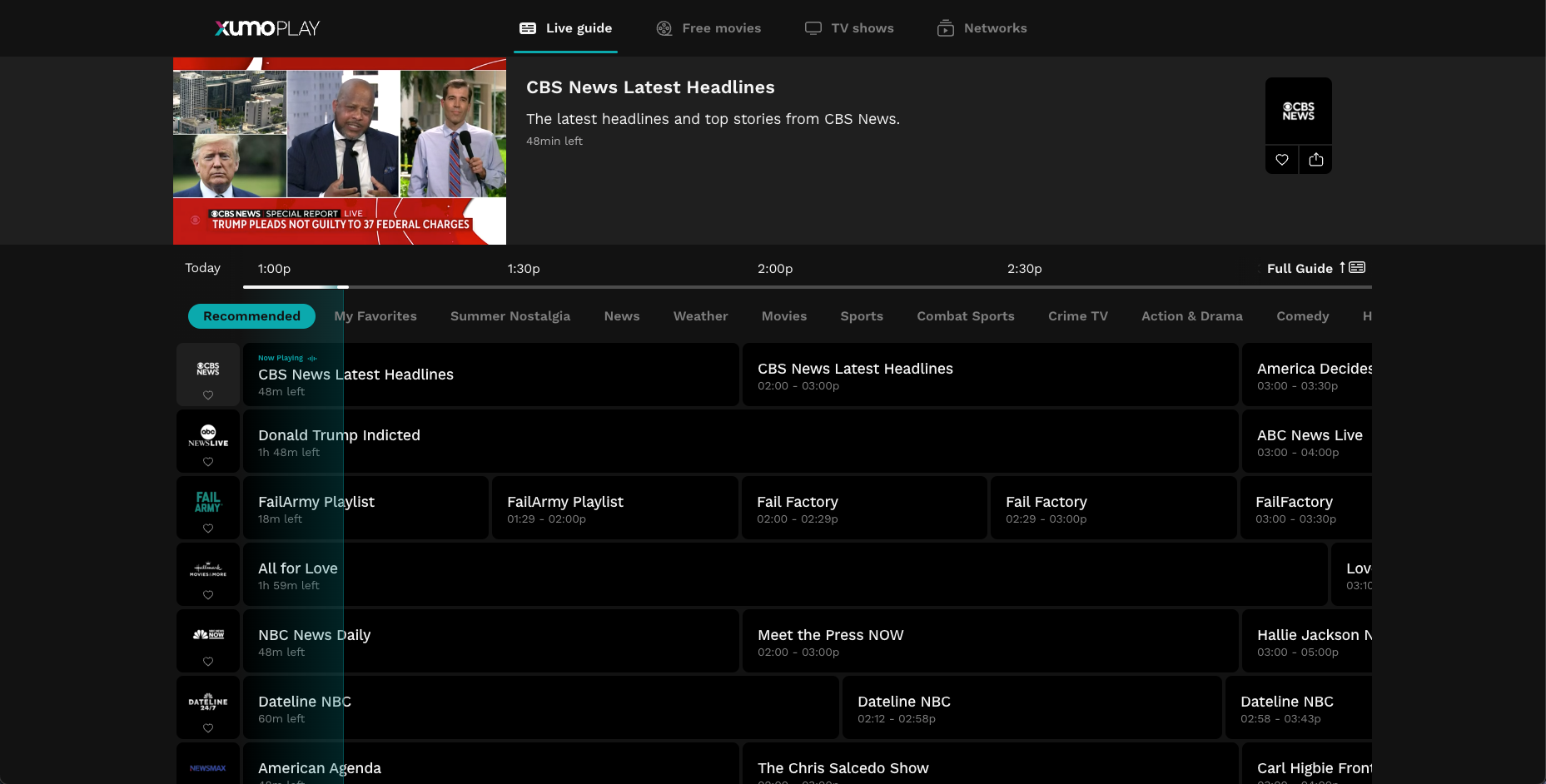 Xumo is part of Comcast and Charter Communications streaming hardware play, whereby the cable broadcaster is attempting to go head-to-head with brands like Roku that offer both streaming devices and services.
Thus, the Xumo platform lives inside of Comcast's hardware (specifically, the company's Xumo TVs and Xumo set-top boxes) and can also be accessed using Roku and Amazon streaming devices.
Other popular free streaming services for smart TVs include:
Amazon Freevee
Crackle
Sling Freestream
Vudu
Plex
Samsung TV Plus
Local Now


Get Started With Strategus
Advertising is the future of streaming, and Strategus has been shaping this industry since running the first programmatic CTV campaign in 2015.
As the only pure-play CTV managed services partner, we take a consultative approach to deliver highly targeted, full-funnel campaigns with granular attribution and measurement — all executed by a dedicated team of CTV experts.
Get started with FAST advertising (and let us take care of the complexities) by contacting us today.

Posted by Traci Ruether