It's no surprise that Connected TV is getting a lot of attention this year, with marketers seeking alternatives to traditional upfronts and an increase in interest in new ways to analyze TV ad success. Much of this is down to a number of consumers cutting the cord — eMarketer estimates that just 78 million of U.S. households had a cable subscription at the beginning of 2021. In contrast, advertisers can reach 84 million people through Connected TV devices.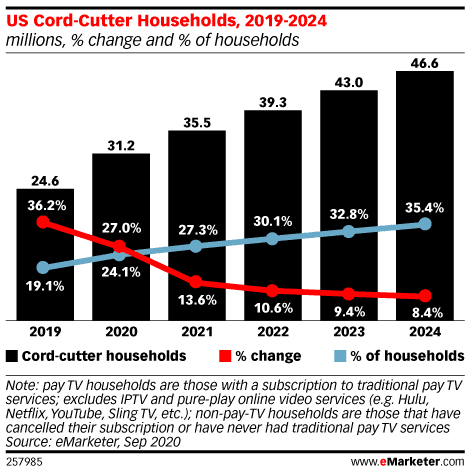 Source: https://www.emarketer.com/content/pay-tv-suffers-historic-cord-cutting
The Trade Desk examines how last year's events altered the television advertising landscape in their Future of TV Report. One of the most notable changes is a growing belief in the efficacy of marketing advertising through Connected TV. While some advertisers have been hesitant to devote resources to reaching the rising audience available through streaming channels, most are aware of the benefits.
According to the study, 87% of marketers believe that CTV advertising is as effective as, if not more effective than, traditional television advertising. As a result, marketers demand better data-driven technology that helps them tie ad spend back to business outcomes. In addition, new pressures on budgets following the pandemic make such tools even more critical.
What is the size of the opportunity?
In 2021, the growth of CTV has solidified the channel as something of a new frontier for advertisers and marketers. CTV ad spend increased last year, topping $16 million per advertiser in the United States, increasing +8% year over year. Even though viewing trends have been progressively changing towards streaming and over-the-top (OTT) services for over ten years, the COVID-19 pandemic has significantly influenced CTV's rise, causing our media consumption habits to shift forward. Despite the lifting of lockdowns and restrictions in many regions, CTV viewing is greater than pre-COVID levels, according to a Nielsen report.
Marketers and advertisers should be excited about CTV because it provides unique chances to overtake traditional television advertising. With Roku's recent launch of its Television Commerce initiative, innovative OTT services like click-to-buy on-screen products are poised to gain traction.
Roku's data also reveals a high degree of interaction with TV streaming commercials. According to internal research, 78% of Roku viewers will purchase from a small or local business in the next three months, and 49% of those polled claimed they stopped their television viewing to shopping for the promoted product.
The exchange value of tv
TV viewers said they don't want to spend too much on streaming subscription services after cutting the cord to save money, with 51% stating they won't pay more than $20 per month.
Because several streaming subscriptions can quickly add up, customers are increasingly interested in ad-supported streaming TV services. There are clear indications that the value exchange of advertising — commercials for content — on CTV/streaming platforms will be very different from traditional linear TV.
Around 57% of TV viewers said they would be "open" to lowering their paid streaming platform membership fee by viewing adverts every other episode while watching a show, i.e. with less frequent interruptions. Another 40% indicated they prefer ads that are customized to their preferences.
While advertisers may need to change their creative approach with the pivot to CTV, data-driven solutions can offer significant flexibility and more robust measurement and targeting when compared to linear television ads.
The benefits and challenges of ctv
According to a survey from Digiday and Innovid, 59% of marketers and agency executives believe CTV investment is boosting brand awareness and engagement, while 39% credit CTV for increasing return on ad spend (ROAS).
CTV has proven to certain brands that it can turn TV advertising into a down-funnel, direct-to-consumer, and direct response approach due to shifting customer habits. For example, the global brand Kellogg embraces new ways of approaching video, adding YouTube CTV to its mix for each of its products.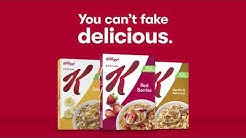 Source: https://www.youtube.com/user/SpecialKUS
Special K ran a campaign highlighting healthy habits, using a planner to determine the optimal media mix. As a result over one-third of the audience reached by YouTube CTV was incremental to television.
Measuring results is still a core challenge with CTV. Businesses want to understand core KPIs such as sales lift, action, and brand lift. However, they typically use audience views, delivery and engagement where it is hard to prove their ads are driving sales. Where each device creates its own identifiers, CTV advertisers find it difficult to analyze data for efficient audience targeting and instead, they rely on first-party data.
You can read about how to measure your success more effectively in our previous article.
Enhancing CTV measurement relies on establishing more industry-wide metrics if brands want to accurately understand the media's effectiveness. However, four times more CTV advertisers believe it is more effective than linear TV in driving return on ad spend.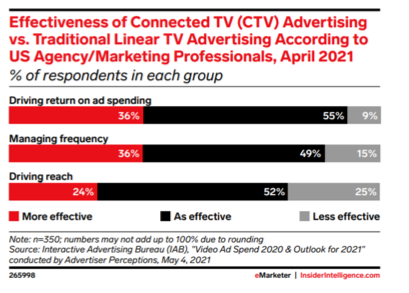 Source: InsiderIntelligence.com
Research from Magnite shows that an engaged CTV viewer is twice as likely to purchase a product after seeing an ad they paid attention to than traditional TV viewers.
According to research, CTV commercials are just as effective as ads on video-sharing sites in engaging viewers. In addition they are often more impactful than standard TV ads in attracting viewer attention.
Viewers say that CTV advertising with feel-good content, good music, intriguing stories, and brand relevance are the most effective.
SUMMARY
CTV advertising offers a more extensive reach and similar quality to linear TV campaigns while also enabling the targeting and measurement potential of the modern digital ecosystem.
Advertisers can examine the content of a video to discover attitudes and placement categories as CTV's measurement and targeting capabilities improve. They will be able to match their ad material to the programme in this manner.
As a result, by utilizing contextual analytics and customized advertising to reach people, they will improve the effectiveness of their CTV campaigns.
Contact Strategus today and talk to our team of experts who can help you reach your digital potential.
We have run CTV campaigns longer than anyone and know how to create successful campaigns. Work with Strategus to be part of the future of CTV and OTT advertising.
Posted by Steven Cohen