12 min read
OTT vs. CTV Advertising: What's the Difference?
OTT refers to the video streaming content delivered over the internet. With TV viewers switching to digital over traditional cable, connected TVs (CTV) refer to the smart televisions that connect to the internet and gain access to these video streaming services.
OTT subscriptions and CTV devices in the household continue to grow yearly, representing a significant opportunity for advertisers to reach viewers.
This article will cover the ins and outs of OTT and CTV advertising, their advantages, and their differences.
Table of Contents
What Is OTT?
Streaming OTT requires an internet connection and a digital device to support apps or browsers. This means that OTT ranges from mobile OTT devices like smartphones and tablets to personal computers, gaming consoles, and CTV devices.
The reach of OTT content surpasses linear cable and satellite subscriptions since streaming lets you experience TV shows, movies, and podcasts at your leisure.
Examples of OTT
The most popular OTT content platforms include Amazon Prime Video, Hulu, and Sling TV. These OTT subscriptions let you stream on a variety of devices.
OTT services vary by model, with some offering monthly or yearly subscriptions and others generating revenue by showing ads to viewers for lower costs.
What's the Difference Between CTV and OTT?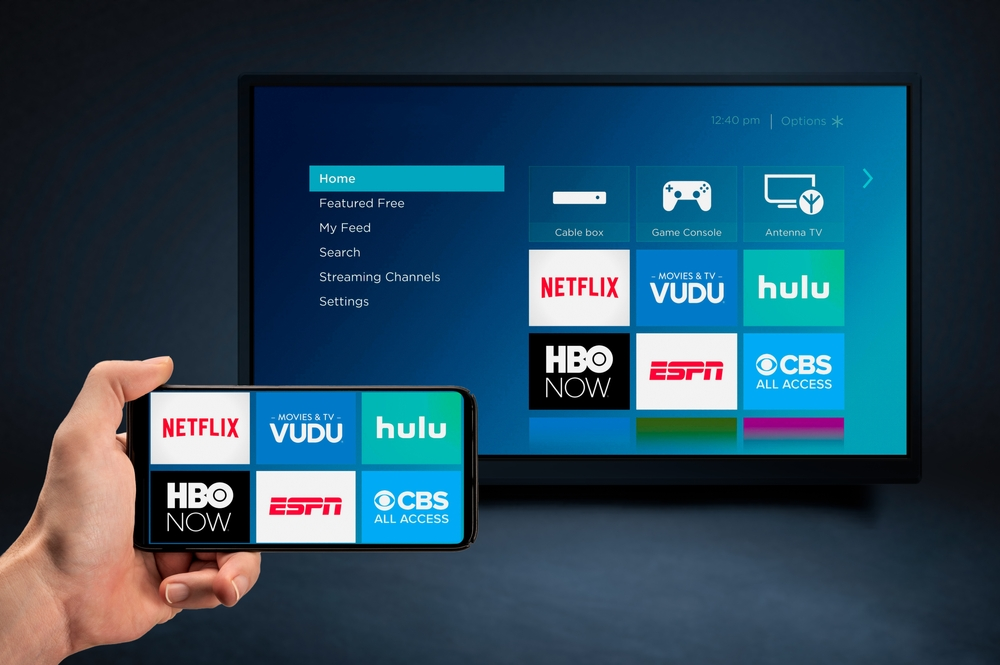 Put simply, OTT delivers video streaming content, and connected TV is used to view this content.
This is a common question among advertisers, as many think that connected TV advertising and OTT advertising are one way or the other, but that isn't the case.
Initially, regular TVs had to add multimedia devices like Roku or an Amazon Fire Stick to view OTT and CTV content digitally.
Now, most TVs already have internet connectivity built into the device to access streaming services. These smart TVs digitize the viewing experience with the same impact as TV advertising through streaming content.
What Is OTT?
OTT or over-the-top is an umbrella term for video content streaming through the internet instead of traditional cable, broadcast, or satellite television providers.
This opens up opportunities to stream TV on desktops and mobile devices.
OTT services include streaming platforms like Tubi, Hulu, Prime Video, Sling TV, Peacock, and many more.
What Is CTV?
Connected television is any device that supports multimedia and connects to streaming content. As a media platform for digital TV watching, CTV enables OTT content. No cable or satellite subscription is required.
By combining computer tech and linear TV, CTV represents a TV hybrid.
In addition to smart TVs, the term also consists of set-top boxes, TV sticks, and gaming consoles. If you've ever streamed video content from a Playstation or through a Samsung smart TV, you've used a CTV before.
History of OTT and CTV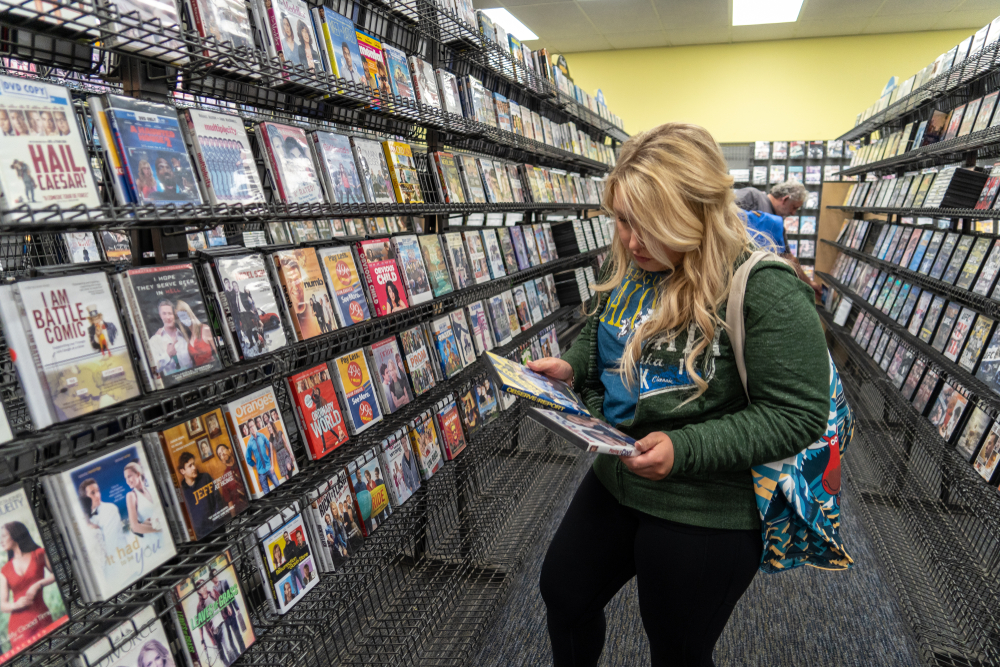 Last year the TV landscape crossed a major milestone. Streaming viewership surpassed cable TV viewing for the first time.
According to Nielsen's monthly report, streaming represented an all-time high with a 34.8% share of total television consumption, edging out cable and broadcast.
As a new chapter in TV viewing is marked, the history leading up to this moment helps us understand the significance of what's happening and what it means for the advertising industry.
The Early Days of Video Rentals
Throughout the 90s and into the early 2000s, Blockbuster was the undisputed champ of video rentals.
Its iconic blue and yellow interior, the smell of popcorn, and wall-to-wall shelves stacked with VHS tapes and DVDs were a piece of the American fabric.
However, in 1997, Reed Hastings founded Netflix based partly on the fact that Blockbuster fined him $40 in late fees. This moment would start unraveling Blockbuster's dominance and eventually revolutionize how people watched movies and TV.
Fall From Grace
Then in 2004, Blockbuster reached its peak with 9,000 locations globally. At the same time, the company decided to end late fees and start Blockbuster Online.
But, by this point, it was already in Netflix's rearview mirror. From 2003 to 2005, Blockbuster lost 75% of its market value
On Demand Streaming
By 2007, Netflix began eclipsing Blockbuster and offering subscribers the option to stream movies and television shows directly to their homes through the Internet.
The rest is history as Netflix rolled out streaming-only subscriptions and became the leading force in the OTT industry. On the other side, Blockbuster faded into obscurity and became an easy punchline.
Big Screen and Big Attention
Other streaming platforms emerged at this time, such as Hulu and Amazon Prime Video, to capture the rising popularity of streaming. While Netflix held classic movie titles and finished seasons, Hulu offered television series still on the air.
Over the next decade, CTV use grew considerably since these devices put viewers in control of what they watched and how they watched it.
Instead of cable TV's linear programming, users designed their own viewing with an expanding list of streaming service providers.

CTV and OTT Growth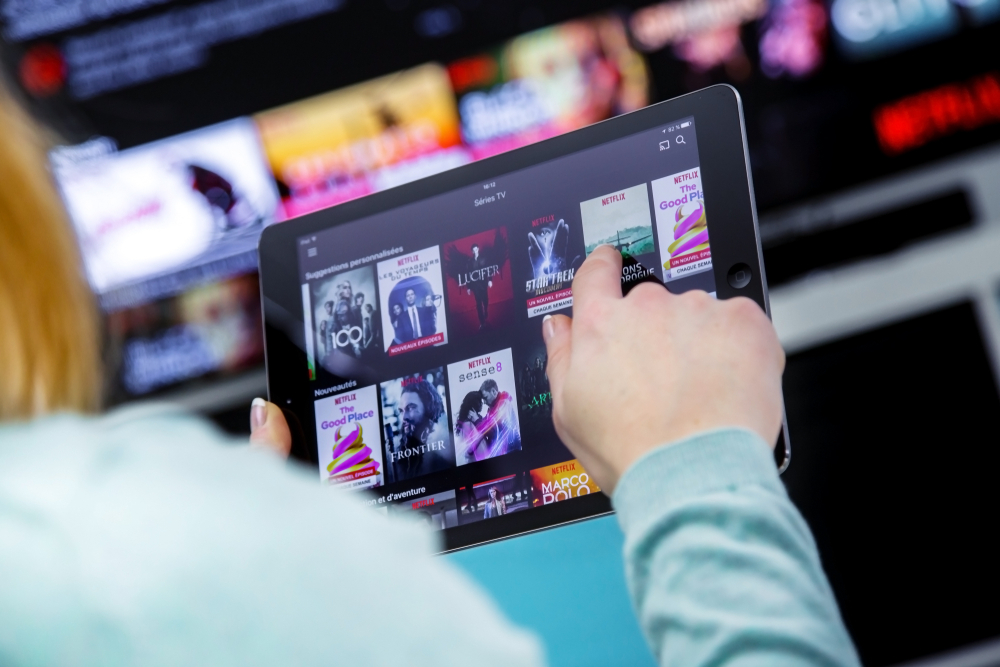 OTT has made leaps and bounds in how people stream video, giving viewers the flexibility to view their favorite shows and movies when convenient for them.
As we look ahead, the OTT viewing experience will continue to evolve. The key for advertisers will be using these advancements to enhance ad delivery in this space.
Especially with these OTT advertising trends:
● AVOD & FAST Channels: Ad-based video on demand and free ad-supported TV streaming are among the most popular OTT models, and CTVs often come preloaded with these streaming services. Viewers opt for ad-supported options to watch video content in exchange for lower costs.
● Reaching Audiences Across Screens: With innovative ad formats employed through programmatic technology, advertisers can connect with target audiences where they stream, gauge who's the most interested, and reconnect with them on a second screen under the same roof.
● Personalized Advertising: Going beyond age and income for audience demographics, considers all the additional factors added to audience targeting. Personalized messaging capitalizes on the personalized experiences already embedded in streaming services that adapt to a user's preferences.
● Enhanced Local Advertising: OTT and CTV can track real time campaign performance with hyper-targeting capabilities to enable area-specific promotions or services. Add strict parameters like zip code level targeting or target consumers of a competing brand to draw attention to your brand.
● CTV In The Household: The presence of digital TV continues to rise in US households. According to the Leichtman Research Group, 87% of TV households have at least one connected TV device. Also, 46% of adults watch video on TV through an internet-connected device daily — compared to 25% in 2017 and 4% in 2012.
Advantages of CTV and OTT Advertising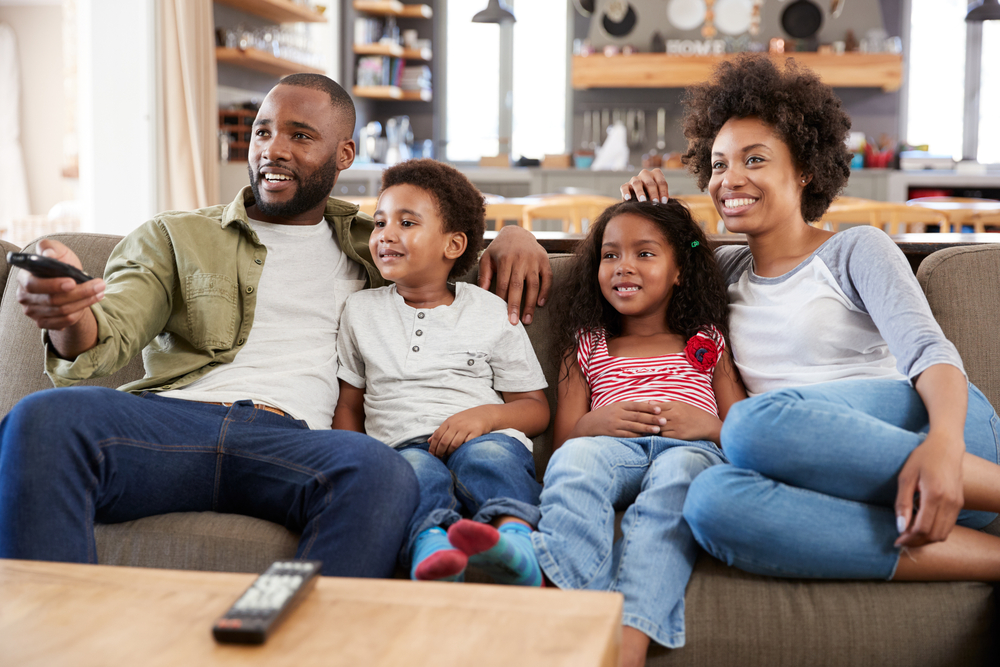 Today's consumers are streamers, and CTV and OTT advertising offer unique ways to optimize your TV advertising strategy. Here are some of their main advantages:
● Hyper-targeting: Deliver ads to specific households based on demographics, interests, and digital viewing habits. Compared to traditional TV advertising, this focuses ad dollars on interested viewers instead of mass messaging.
● Cost-effective: CTV and OTT advertising help reach TV audiences for a lower cost without wasting ads on uninterested viewers.
● Attribution measurement: Advertisers track ad performance and make data-driven decisions regarding campaign strategy, frequency, and audience reach.
● Versatility: Flexibility in ad placement and timing customized for different platforms and devices. The automation of programmatic technology also optimizes audience engagement to keep moving interested viewers toward conversion.
● Growing Audience: With free ad-supported streaming services, businesses can reach a large audience on the TV screen, including cord-cutters and cord-nevers who are no longer reachable through linear TV advertising.
Challenges of CTV and OTT Advertising
In general, advertising on these devices and mediums carries the following challenges:
● Ads are not skippable: While this means that your campaign will have higher view rates, your ads also run the risk of being disengaged from the viewer.
● Knowledge gaps and buy-in: Keeping up with this developing space can be difficult. For advertisers, adopting an omnichannel approach that includes CTV and video placements requires technical knowledge to be effective.
● CTV ads are not clickable: Advertisers focus more on brand development and influence-building over a direct lead generation. To be the most efficient, tailored content must be repeatedly delivered to the right target audience for reinforcement.
Omnichannel strategies instantly re-target a viewer who watches a CTV ad to the end. They are sent clickable ads to convert on other devices, such as their phone or tablet. This way, you can create direct action from a CTV ad.
CTV is the premium option in the OTT ecosystem because of the quality of content, the impact of streaming, and the viewer engagement resulting from that connection.
Like all other channels, the strategy ensures a successful CTV and OTT campaign. Here are a few blended strategies that follow best practices:
● CTV & OTT + Retargeting: Made possible with our Encore Omnichannel technology, this service follow-ups with likely prospects who have viewed a CTV ad in full with banner and scroll ads, moving them through the funnel with powerful sequential messaging.
● CTV & OTT + Paid Search: Sponsored content and keywords increase your visibility among viewers who have already shown an interest in your service. Paid search and social campaigns are the final push that moves a viewer from awareness to action.
● CTV & OTT + Programmatic Display: Viewing the same ad or seeing the same brand across different mediums ensures a brand remains memorable.
Who Should Advertise on OTT and CTV
Advertisers know how impactful TV remains for brand messaging. However, the progress of CTVs is forcing businesses to adapt by going digital to reach their audiences. With elements of both TV and digital, OTT & CTV can be the perfect fit.
Since CTV remains an emerging marketplace, it can be difficult to maneuver. Regardless, brands are taking advantage of the overall benefits and opportunities it offers:
● Marketing leaders & CMOs for major brands
● Marketing agency media buyers
● Marketing agency owners looking for a white-label solution
The OTT and CTV Advertising Ecosystem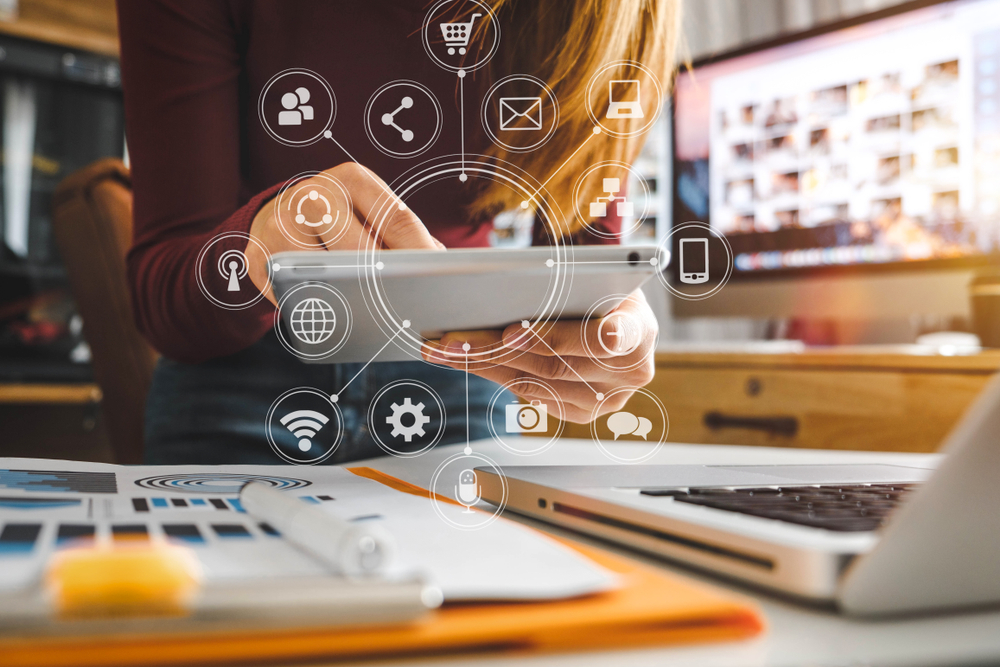 Odds are, you have already used CTV devices and OTT services by streaming TV shows or live events. Now, we'll break down all the players involved in getting ads in front of this audience:
● OTT platforms retain video streaming content, such as Netflix, Hulu, and Discovery+
● Connected TV or OTT devices enable streaming through your TV screens, like smart TVs, Roku, or an Amazon Fire TV Stick
● Advertisers pay to advertise their products or services
● Agencies are the intermediary that manages, optimizes, and consults, on behalf of advertisers
● Publishers sell advertising inventory to include broadcasters, OTT platforms, and CTV devices
● Ad servers are a technological engine advertisers, publishers, ad networks, and agencies use to distribute ads across paid channels
● Viewers are the audiences who are streaming videos
● Aggregators are services with premium inventories across multiple platforms that sell ad space
● Supply-side platforms (SSPs) are software that automates the selling side of the ad exchange process, mainly used by online publishers to sell display and video ads
● Demand-side platforms (DSPs) use software that automates the online ad inventory-buying processes
How to Navigate OTT and CTV Advertising With Strategus
With ad spending signaling a shift from traditional platforms to streaming TV and other smart devices, OTT and CTV continue to represent the future of advertising.
Our managed service has been on the leading edge of the programmatic OTT & CTV industry since the beginning. Stemming from our experience and expertise, we place your brand in front of the right people at the ideal time and place.
Contact us to discuss leveraging OTT and CTV advertising within your media strategy.

Posted by Andy Dixon