17 min read
AdTech Trends in 2022: Interview with an Expert
There is hardly any industry in the world that hasn't been affected by the tumultuous events of the past two years. AdTech is no exception, and we're all still adjusting to new advertising challenges. For more than fifteen years, Postindustria has helped AdTech companies create monetization solutions loved by top publishers, using cutting-edge technologies.
To keep you informed about AdTech trends, bidding technology, software development kit (SDK) monetization, and more, we interviewed our software engineer and architect, Eugene Dorfman, and our CEO, Konstantin Mirin. Every day, they help leaders of the AdTech and MarTech industries deliver excellent results for myriad businesses. So, let's get right to it and see what our experts had to say.
Top 5 AdTech challenges to watch out for in 2022
Yura Velichko: Hello Eugene! I know that you're tuned in to everything related to the latest AdTech trends. Have you heard of the research from eMarketer, that shows that US adults spent one hour more per day on digital devices in 2020, compared to 2019, with screen time projected to surpass eight hours a day in 2023? We know this is a result of the COVID-19 pandemic that plunged people into lengthy lockdowns and led to more time spent at home and online. Do you think this has already affected the AdTech sector?
Eugene Dorfman: Hi, Yura! Totally, and the significant changes that marked 2022 will continue to shape the industry's development. Digital ad spending is expected to reach $560 million in 2023, and growth rarely comes without challenges. One of the biggest challenges will be the phase-out of third-party cookies. I think the market will be most impacted by the removal of Google Chrome cookies, which accounts for more than 64% of the browser market. They'll abandon third-party cookies in 2023.
Now industry experts are looking for alternative ways to collect information about target audiences while remaining transparent and complying with new privacy rules. Google Privacy Sandbox is already developing alternatives to cookies. Google claims that with sandboxing, marketers can expect 95% more conversions per dollar spent, compared to cookie-based advertising.
Another key AdTech trend in 2022 is consumer privacy protection. The scrutiny of tech giants dominating the global digital advertising market has increased. Market regulators and governments are investigating the activities of the tech giants in terms of data collection, consumer privacy, content moderation, and antitrust laws. This affects how ads are bought and sold online.
One more consideration that could be a new AdTech trend is more advanced audience targeting for CTV, which stands for "connected television." Advertising firm Strategus already offers solutions that include improved contextual targeting and better ad timing for targeted audiences.
The growth of the CTV market also creates new challenges. One successful tactic is ads.txt, a text file that publishers can place on their websites to provide ad buyers with a list of authorized providers. This topic is covered in more detail in a post dedicated to the AdTech trends in 2022.
Also, I must mention the problem of low click-through rates, or CTRs, for any type of ad. For example, Smart Insights notes that the average CTR for Google search ads was 3.17% as of September 2021. This indicates a need to create new and more attractive advertising formats. Research shows that video ads have the highest CTR of all ad formats and generate high engagement.
Measuring data without third-party cookies
Yura Velichko: The end of the cookie era, the rise of CTV, and ad fraud. Sounds quite challenging. Many advertisers and providers seem to see the upcoming ban on third-party cookies as a harbinger of an industry-wide apocalypse.

Eugene Dorfman: Let's not forget that AdTech around the world was fragmented even before there were consumer privacy laws and cookie blocking. And as markets became flooded with overly complex tools and ad networks, the industry became even more fragmented. My colleague talks more about this in his post about fragmented data without third-party cookies.
Most companies will resort to contextual advertising and be unable to track customers outside of the companies' platforms. Alternatives to third-party cookies are emerging though. AdTech will rely on its own tracking without the ability to link the digital footprints of users across different websites.
What all this means is that the industry will no longer be able to use the traditional approach of setting up advertising and measuring its KPIs on the open web.
Yura Velichko: But that doesn't mean you can't measure online visibility. Will we be able to measure user data in the near future?
Eugene Dorfman: Luckily, there are many effective third-party data alternatives you can use right now, such as first-party data, cooperative brand networks, ID-based solutions, etcetera. And more are on the way. It is described more obvious in an article about fragmented data. You must understand that the industry can survive without third-party cookies. Most companies will turn to vertical ad networks and future identity solutions that can be just as effective for measuring ad impressions.
Name (the post author): Having mentioned third-party data, I must admit that it's not very pleasant to discuss laws and regulations, but we can't ignore the California Consumer Privacy Act (CCPA), which sends ripples through the AdTech waters.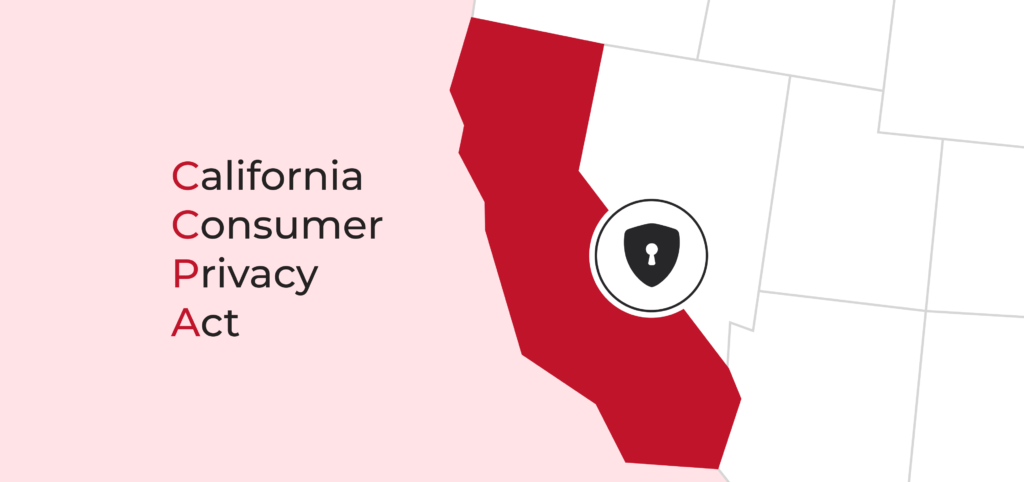 Eugene Dorfman: New restrictions on how companies collect and manage personal data are inevitably shaking up the advertising industry and provoking further changes to CCPA qualification criteria. No matter who your vendors are, this new law makes you responsible for their mistakes, non-compliance, and security failures.
Yura Velichko: For those who don't know, can you try to explain what the CCPA is?
Eugene Dorfman: The California Consumer Privacy Act governs the collection and management of personal data of California residents and employees. Similar to the European General Data Protection Regulation, known as the GDPR, the Act aims to protect personal information by imposing restrictions on who can use collected personal data and how. If companies violate privacy protections, penalties can cost them a lot of money.
The importance of third-party vendor compliance
Yura Velichko: We've mentioned the word "data" quite often. What personal data can a company's product or partners collect?

Eugene Dorfman: Regardless of how the CCPA's compliance criteria apply to you, it's likely that your company or your vendors collect various types of personal information that's covered by the CCPA if you have contact with California consumers.

Both parties, the advertiser and the publisher, rely on AdTech to collect and analyze data from multiple sources, assess demand, and identify trends. Data is at the heart of the advertising business. The information collected could include user behavior, characteristics, preferences, abilities, gender, age, location, and demographics.
Yura Velichko: Some types of third-party data, such as cookies, disappear quickly; others can be paired with the brand's data for generating more insights. Are there stricter compliance rules if more detailed data are collected?
Eugene Dorfman: Broadly speaking, under the CCPA, personal information is any information that identifies, describes, or can be associated with an individual or household. By "household" the CCPA refers to a group of people living in the same place.
Unlike the GDPR, an opt-in law requiring privacy by default, the CCPA enables users to opt out of ad targeting any time they want. In the case of household members, if a user opts out, you need to meet this request for all of their devices and the devices of everyone they live with. It goes without saying that your vendors should do the same.
There are several points of contention for AdTech providers in the CCPA requirements. I described them in detail in my post answering the question of why is vendor compliance important.
Web and in-app header bidding
Yura Velichko: Thank you for such detailed information about AdTech trends and CCPA. Now, I'd like to discuss another important technology that's become a leading tool for AdTech in recent years.
Eugene Dorfman: Let me guess — you're talking about header bidding? For that, I'll pass you on to my colleague Konstantin, who's an expert in everything regarding that technology.
Yura Velichko: Hello, Konstantin! I know that it's a huge topic for discussion, but could you please tell our readers, in a few words, how does header bidding work?
Konstantin Mirin: Hi guys! Thank you for having me. To put it simply, header bidding is a way to help publishers make more money from ads on their sites. Header bidding takes very different forms on the desktop versus in applications. You already know that all websites consist of a header tag to hold all the code that must be loaded first, like the menu, a body tag to hold all the site content, and a footer tag.
To implement header bidding in web environments, developers place a snippet of JavaScript in the header of the website. That's why this strategy to increase price competition is called "header" bidding — the JavaScript is placed in the head tag of the site. This JavaScript code in the head calls multiple service provider platforms, referred to as SSPs, to ask if any want to bid to show ads.
Because this code snippet calls multiple ad sources, it increases competition, which raises the price per impression by increasing the bid per ad impression. Furthermore, each of the SSPs already holds its own internal auction before they even respond to the call from the publisher. So it is the same as holding an entirely secondary auction to bid multiple supply sources against each other.
I've described the technical aspects of how it works in our company in detail in an article about mobile web and in-app bidding.
Yura Velichko: I know that header bidding often assumes you're using a Prebid shell. And at this point, even a sophisticated specialist can get confused.
Konstantin Mirin: The code on the site itself is the JavaScript code hosted by the site that starts the whole process and starts the auction. Each ad slot or inventory slot that a publisher has on the site is designated by a separate div tag linked to the main ad server. This allows the space on the site to act as a photo frame in which ads can appear and disappear relatively independently of the rest of the site.
The next point of interaction is the main ad server, which could be something like the Google Ad Manager. Prebid uses Google Ad Manager to place all possible combinations of bids and bidders that can win. Within Google Ad Manager there is a complex setup of Orders and Line items that correspond with demand partners that are enabled.
The tech aspects of header bidding and the set-up process are quite complex — I could talk about it for hours. I've gathered the most relevant information in my comprehensive AdTech guide on header bidding.
Header bidding has replaced the waterfall method in programmatic advertising. The waterfall method was popular, but was it fair and profitable for publishers and demand partners? Not really. Header bidding fixes that. The most difficult challenges that publishers, SSPs, and exchanges have with regard to header rates and finding solutions together are covered in my article about header bidding technology opportunities.
DSP vs trading desk
Yura Velichko: Programmatic advertising has allowed brands to manage the process of advertising purchases themselves. However, companies continue to work with agencies. Agency trading desks, often shortened initials ATDs, are still popular with brands, especially brands that don't have the in-house experience to work directly with demand-side platforms, which go by their initials, DSPs. Can you explain the difference between DSPs and ATDs?
Konstantin Mirin: To avoid confusion, it helps to look at their definitions. DSP is a technology platform that connects brands with vendor platforms (SSPs) and ad exchanges. There are many DSPs on the market. To name a just few, there's Mediasmart, Adikteev, RevX, InMobi, MediaMath, Bidease, AdColony, and The Trade Desk.
ATD, on the other hand, is a platform that provides services, including planning, purchasing, optimizing, and running programmatic advertising campaigns. You may know the names of some ATDs, like Xaxis, Amnet, Digilant, VarikMedia, Accuen, and Vivaki, for example.

In short, DSPs offer a more independent approach for brands, while agency trading desks require more human resources involved in the media buying process driving the cost of their services up. This is one of the key differences between them — the cost of the service. You can check my research on ATD vs DSP in my article.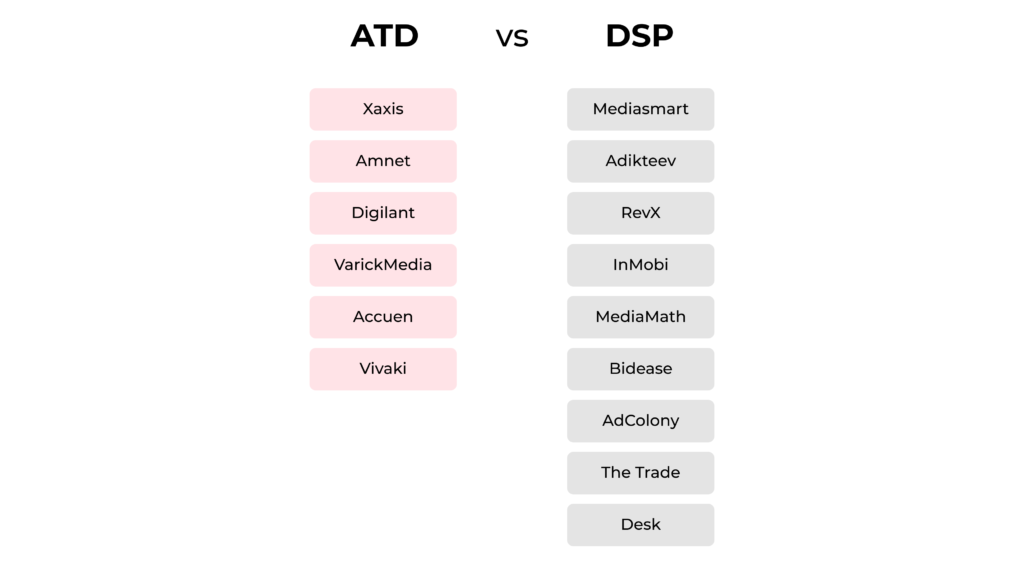 Header bidding optimization
Yura Velichko: Let's digress a bit from the technology itself and talk about Prebid and SDK optimization. Our colleague described a patch to the Prebid mobile SDKs (iOS and Android) in his guide on Prebid debugging. Can you explain to our readers what the advantage of this patch is, in terms of advertising?
Konstantin Mirin: The fix saves at least one call to the Prebid cache server each time the main ad server SDK web view displays a winning ad coming from the Prebid server. The patch allows you to cache the winning creative locally on the client and download it from a local HTTP server running as part of the Prebid Mobile SDK. Ad creative loading time is measured and compared to that of the vanilla Prebid Mobile Integration – the loading time reduction is evaluated. Because mobile header bidding, which is also called in-app bidding, is an important method of ad monetization, the Prebid.org project is a very useful initiative.
Yura Velichko: Okay, let's slow down a bit to understand how this all fits together and what the supply chain looks like at each stop. I think it's worth sorting out before asking you questions about monetization.
Konstantin Mirin: There is a constant flow of money from the brand to the advertiser, with many stops along the way. There's a cash flow similar to the food chain, or as it's known in AdTech, to the supply chain.
Typically, the advertiser sets a maximum cost per thousand views (CPM) and then the DSP looks for it in the SSP inventory disseminated by publishers around the world. It happens in less than the blink of an eye, but there are many steps from point A to point B. Understanding the entire supply chain helps you see why things happen the way they do and the best way to fix problems. This entire flow is ever-evolving as new technology becomes requested and as innovations happen.
Recall that from the brand to the moment when its ad is actually shown to the target audience by the publisher, there are many stops. The complex ecosystem that drives digital advertising is difficult to manage and there's no single way to do it. There's unlimited customization and plenty of vendors to choose from at each of the steps. You can check a few examples of header bidding ecosystems in our recent article.
Yura Velichko: Header bidding is clearly an important tool for a publisher's arsenal. But most ad auctions are inefficient, which affects the user experience and the efficiency of bidders. Can these problems be solved with header bidding analytics?
Eugene Dorfman: That's a question made for me! Header bidding analytics allows publishers to track and evaluate the performance of bidders (advertising sources) in ad auctions.
Header bidding can take place on the wrapper — the JavaScript code on the website that sets the rules and initiates bid requests for auctions — or on separate servers, which is the preferred option for mobile publishers.
Your main analysis tools are third-party tools and reports from your advertising partners. Publishers rely on various metrics to optimize inventory, improve content strategy, improve user experience (UX), and prioritize the best ad sources. Some of the key indicators needed to understand the reports, and much more, are described in an article on header bidding analytics.
Market trends and SDKs
Yura Velichko: To end our discussion, I'd like you to answer the most common question about header bidding. If it's so good, why don't all app owners and advertisers use it?
Konstantin Mirin: The technology and application advertising processes need several changes that will require effort and budget allocations. But still, the pros outweigh the cons because app header bidding is more efficient, technically robust, and requires fewer work hours. Publishers will no longer need to frequently reassign development resources to add a new SDK. In addition, ad exchanges and networks can now compete on fair and transparent terms.
Still, the most effective methods and necessary components for a successful monetization strategy can be very individual. That's why to help app developers gain access to information, our team at Postindustria conducted a study on the trends and technologies that define mobile devices and SDK monetization.
Eugene Dorfman: Summing up the topic of advertising, with depersonalized transactions, reliance on easy-to-manipulate metrics, and a complex supply chain, the digital advertising industry is lucrative for fraudsters. Invalid traffic, ad hiding, click fraud, and app spoofing are just a few well-known examples of schemes that scammers use to further their nefarious intentions. Not surprisingly, ad fraud remains one of the biggest problems for the entire online advertising industry, including for advertisers, publishers, agencies, ad networks, and ad exchanges.
Yet, ignoring the problem doesn't make it go away. Luckily, monitoring your analytics, following best ad placement practices, acting immediately, working with reliable ad partners, and using proven ad fraud protection services, reduces the risk of ad fraud considerably. I've already described how to work on ad fraud prevention. You are welcome to check my article!
How MarTech can be used and why it is important
Yura Velichko: Information, big and small pieces of it, has become the new item placed for exchange, especially in the marketing sphere. But this can't be done quickly and efficiently without MarTech. Let's talk about this a little.
Eugene Dorfman: The use and effectiveness of MarTech is the subject of heated debate, but one thing's clear: it's an integral part of marketing that's not going anywhere. MarTech tools help marketers achieve their goals. These solutions are commonly used during digital marketing campaigns for processing customer data, identifying a target audience, creating a buyer persona, placing ads, creating offers, and so on.
We explain in detail how MarTech can be used and why it is important in our post. In short, if MarTech has one universal goal, it's to provide your marketing decisions with data that improves targeting, segmentation, and ad delivery accuracy. In other words, MarTech exists to make brand communication effective, accurate, and meaningful.
Konstantin Mirin: I think it's also important to understand the difference between AdTech and MarTech. They overlap but the terms are not interchangeable. AdTech and MarTech each has its own individual value.
While AdTech refers to the tools and services that promote those offerings and deliver them to their target audience, MarTech refers to the tools and services that create content, manage communication, and offer creation. I talk about the similarities and differences between MarTech and AdTech in my article.
Here's an example to explain it better. Google Analytics is a MarTech solution that helps you understand your audience more, while Facebook Ads is an AdTech that delivers the ad content. And here comes the reason they both should be in a staple toolkit of every marketer — to deliver the right content to the right person at the right time.

Yura Velichko: Thank you both for taking the time to answer our customers' most frequently asked questions. I think you gave us a comprehensive and very informative interview, with a lot of new information about the AdTech & MarTech industries.
Read the full interview here!
Posted by Steven Cohen