2 min read
Strategus on BIZSOUP Podcast: The Changing Landscape of TV Advertising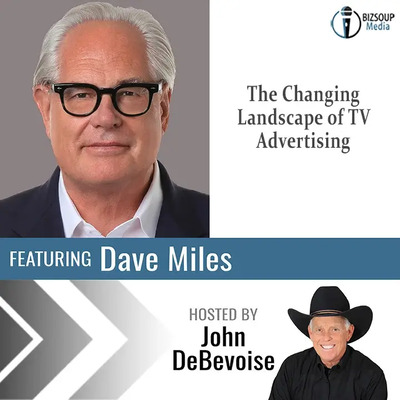 Strategus delivers audience-targeted ads on Internet-connected devices, instantly. The team at Strategus pioneered programmatic placement of over-the-top (OTT) advertising, revolutionizing ad tech strategy for in-house media buyers and ad agency professionals who crave data-driven optimization and real-time campaign management.
Mr. Miles graduated from Colorado State University with an Art degree. He joined Hallmark Cards as a Book Designer. Encouraged by early success, He started David Miles Design. Unfortunately,like many creative people, he knew absolutely nothing about business and faced financial failure many times. It took 15 years of slow, painful growth to acquire the necessary skills to run a high-performance company – culture, financial management, profitability, strategic planning, business development, media, marketing, advertising, etc.
As the company grew into a full-service advertising agency, Dave saw an opportunity to bring outstanding creative to the new home industry. Miles Advertising immediately began to gain national recognition, attracting many of the best-known brands in the industry, including Disney, Hines, Pulte, Shea Homes, True Homes and more. Recognizing the need for branding, Dave introduced the first proprietary branding process for the real estate industry and changed their name to Milesbrand. As their client engagements continued to expand, it became evident that Dave needed a robust offering around digital advertising. In 2014, he Co-Founded Strategus, the world's first programmatic OTT/CTV advertising agency. Today, the Strategus Managed Services Platform produces real-time automated campaigns that instantly deliver custom, audience-targeted video advertising to CTVs and other internet-connected devices.
Talking Points
Dave Miles built his agency's brand in real estate
Creating a technology platform that's breaking the mold in advertising
Strategus is rocketing up the Inc. 5000 for the 3rd year in a row
From the Great Recession to Covid, Dave manages through by putting people first
Posted by Strategus