7 min read
How to Create A Programmatic Audio Ad
Audio content is seeing rapid expansion. In 2021, 72 percent of Americans (218.4 million) listened to digital audio every month, which is likely to rise. As the popularity of audio material grows, so does the chance to broadcast audio advertising. Here is where programmed audio comes into play.
What is programmatic audio advertising?
Programmatic advertising is a technique that uses AI algorithms to purchase and sell advertisements for digital audio materials. The programmatic process simplifies the ad-buying workflow with strategically distributed ads based on user behavior. All with no direct interaction with the advertising department or digital audio content publisher selling advertisement space. In conjunction with large campaigns, programmatic audio provides a cohesive and unique advertising experience that is likely to improve conversion rates. Using programmatic audio digital audio content publishers can advertise their products through an integrated marketing solution.

How does audio fit into your marketing strategy?
Digital audio is a popular way of developing integrated branding campaigns for multiple devices. Audio is an excellent method for creating a brand name, primarily if utilized alongside videos and other branding initiatives. To provide seamless cross-channel experiences, consider integrating video and audio with 1st and 2nd party data targeting measures using digital KPIs such as unique visitors, capping, geo, and demographics across media.
Digital audio listeners are highly engaged
Digital audio sounds emotional and incredibly different to consumers. Because of audio podcasting, ads are generally more useful as they integrate seamlessly with the content. 64% of listeners support podcast sponsors, and 86% of respondents indicated they remember commercials they saw or heard on podcasts, significantly outnumbering any other platform, including social media and television.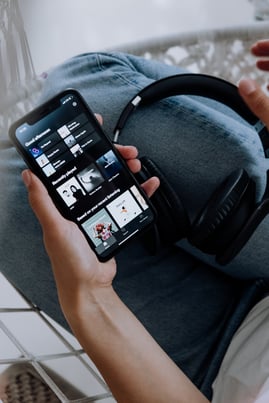 How does programmatic audio advertising work?
Programmatic audio utilizes programmatic techniques that automate sales and ads in audio products such as digital radio ads and podcasts. Bidding, buying, and campaign execution processes are similar to automated video ads.
What are the main differences between sending and receiving a message?
In digital audio ads, you can communicate purely via audio. You can record the message from different screen parts in various ways. Ads can play in the form of pre-rolls to reach audiences before events or mid-rolls that stop at the beginning of an episode.
How does podcast advertising work?
Podcast advertising includes a pre-roll option and a post-roll option depending on your ad duration. A difference in Podcast digital audio ads is that podcast hosts are the primary readers and can track ads based on specific advertisements under most circumstances. The most effective methods for measuring ROI for audio podcast advertising in real-time are specific promos, vanity links, or even checkout questions. In terms of marketing effectiveness, marketers can analyze Twitter and Facebook to see what effects are following podcast sponsorship.
Often, podcast listeners are more engaged than listeners of streaming music or online radio and have the listener engaged more than other forms of audio media.
What is the best way to create a great audio ad?
Audio ads consist of several pieces. Everything revolves around the main component in digital audio advertising - the message. All the details of audio campaigns contribute to conveying messages to the listener, from script to voice actor. This is the primary step in creating a marketing plan. Writing an easy script that includes the right message and the best value is recommended. Typically in commercials, the best audio ads have a length between 15 to 60 seconds. In a 15-second ad format, the script must be at least 45 words long. Ads should be 100 – 150 words long in 60 seconds.
What should you consider before you create your first audio ad campaign?
Using an audio marketing channel can be used for various digital marketing activities and launching your digital marketing campaigns. Online campaigns typically include banners ads, native content, videos, and social media. This new audio format allows me to capture the audience's different mentalities during the day. It's just a matter of starting your campaign. Strategus is the perfect platform to launch and execute your campaigns because we offer multiple channels and specific targeting, allowing you to align it easily with other campaigns.
Are there different types of audio ads?
Audio ads vary from a single ad for a mission to several ads with common traits. A linear Audio Ad is an advertising campaign positioned before or during an advertising campaign. There are two kinds of units: Pre produced and Native. Pre-production is done by digital advertising companies and is marketed before distribution. When you launch your Spotify app, you may hear commercials in the background before the music is played. Spotify produces these commercials in advance. You could also find a video advertisement when you are on the radio online.
What is the procedure for developing an audio campaign?
First is brainstorming for a campaign. Outline what you want to say to customers and then how you want to express it. After establishing these two elements, create a demographic profile and consider where this audience may consume material. The targeted ads options of most programmatic tools are limitless. Aside from geo-targeting and demographic targeting, you can focus on unlimited segments such as third-party segments, lookalike audiences, complex retargeting, and exclusion strategies.
Once the targeting is determined along with general messaging and a call-to-action (CTA), it's time to define the language used to communicate with your target demographic. To do this, create a creative messaging copy document. In it, write the text for each channel. Simply reusing materials across numerous platforms and placements is no longer sufficient. You should tailor the message to the audience found on each specific channel and even tailor it for the time of day, week, and year.
Audio advertisements are distinct in that they do not rely on visual signals or images to communicate a message. Instead, include components of the copy from more graphic advertising, such as display banners, into the content to create a holistic approach to your campaign. By doing so, your marketing objectives and branding are consistent throughout all campaigns.

Three elements of a compelling audio ad
While audio ad distribution methods have evolved from radio to internet radio ads, in-stream audio ads have never changed, making a great audio advertisement. Here are the essential components of an effective ad:
Make a script.
The script should be straightforward, with a clear message that comprises a value proposition and a single stated call to action (CTA). Audio advertisements are typically 15 to 30 seconds in ad length. Aim for a script length of 40 words for a 15-second commercial. Aim for 55-75 words in 30-second digital advertising.
Try to repeat the brand name 2-3 times during the commercial. When creating an ad script, remember that the most refined audio advertising targeting specific genres can create imagery with a consistent tone that engages the listener with targeted ads and makes the ad memorable.
Voice Over Actors
Once a script has been completed, it is time to select the right voice actor. You should seek to establish a consistent voice with your brand that is relevant and appealing to your target audience. A warm, conversational tone is essential for audio commercials. You're not looking for the theatrical voices you may hear in radio commercials or the people who make a robust off-color emphasis on words to command attention since programmatic audio advertising reaches consumers when they're already actively listening.
Recording and mixing
Now it is time to record. The script should be delivered slowly, with a constant tone and speed. Don't hurry it, but make sure you stay inside the ad's 15 or 30 second time limit. Consider the transitions in and out of the advertisement while mixing the final edit since they should not seem abrupt to the listener: practice, edit, and repeat. An ad done right is better than an ad done fast. Once it is out there, there are no backsies!
Utilize minimal background music to avoid distracting the listener, and add subtle effects and environmental noises to generate pictures in the listener's imagination after the commercial has been mixed.
Targeting on programmatic audio
The audience targeting of the programmatic audio program follows the same format that many of our clients have used; other options can help match moods and topics with specific genres or podcast episode topics. Use the audience targeting parameter of your video campaign, smartphone campaign, or cross-device campaign, or use the audio partner data for your campaign for targeting specific genres or playlists. Strategically target premium digital audience with traditional broadcast parameters such as dayparting & geo format, measured against known KPI GRPs.
Audio ad distribution channels
A growing number of ad formats include audio advertising, which incorporates audio and voice into nearly everything we do. Brands could capitalize on the growth the audio industry is experiencing to create their audio ads. Your ads may have various formats depending on the content. Before getting into the basics of making an audio ad, it is good to set the foundations for your platform for multiple formats.

What metrics do you focus on tracking for reporting on your audio campaigns?
If you invest most of your marketing budget into programming metrics, it can help you measure results. This enables you to show how your marketing efforts have influenced business performance and media statistics show what's driving a company's current business performance in real-time. It is best to not focus on return on ad spend (ROAS) until several weeks into the campaign to get an accurate average picture, as initial days may be abnormally high or low on results.
Closing advice for programmatic audio ads
Scaling may be tricky—ideally, start broad and gradually hone in on your target, whether from a geographical or demo standpoint. If you're creating a special deal, avoid including demo targeting. Contact Strategus today, and let us guide you through the process.
FAQs
What are some excellent audio ad examples?
PepsiMax
PepsiMax is a beautiful example of how to utilize ads for Spotify. They teamed with an events firm and sponsored summer events based on consumer research. They marketed the activities with targeted ads throughout the surrounding regions of the site. For the 18-49 age target audience, they employed 650 audio commercials. They were all about summer events. The targeted awareness campaign had impressive engagement rates and boosted ad recall by 155%.
Jose Cuervo
Also, Jose Cuervo had remarkable success with Spotify advertising. Jose Cuervo started a marketing effort with targeted ads to British college students by inviting them to submit their best Spotify playlists. The public was then asked to vote on the playlists. The winning Spotify playlist earned a Hot Chip and Maccabees performance at their institution. This campaign earned almost 270,000 views on Spotify and doubled revenues at the winning school's store.
What is the main difference between streaming audio and connected tv ads?
They are similar in many ways. The audience targeting parameters and audio content is identical. The main difference is in the visuals. With audio ads, you create them with limited imagery and rely more on mental imagery. When you make audio ads with connected tv, the targeting and results are similar, but there is an equal focus on the visual aspect.
Posted by Steven Cohen